This 8 day Viking's Heart of the Delta cruise travels down the Mississippi from New Orleans to Memphis, however, you can also cruise from Memphis to New Orleans.
Enjoy the rich French and Acadian cultures on the Lower Mississippi, and grand history of this region. In New Orleans the French Quarter is a must visit; with its rich culture.
Next is a visit to Darrow, Louisiana. Here you can enjoy historic mansions dating back more than a hundred years.
Baton Rouge is known for its Cajun heritage. This is a perfect place to do sightseeing on a Airboat through the Atchafalaya Swamp.
In St. Francisville, you can explore the Rosedown Plantation; dating back to the pre-Civil war era. This town is on the National Register of Historic places, with more than 140 buildings.
Natchez has a perfect small-town American feel. The town has more than 500 historic buildings; many of them are pre-Civil War mansions.
Vicksburg is know for its Civil War history; it was a key Confederate port on the Mississippi. In 1863, the battle of Vicksburg took place. After the siege of this port town, and the subsequent surrender to the Union Army; the Mississippi was now under the control on the Union Army.
Last stop is Memphis, Tennessee. This the the heart of Graceland; Elvis Pressley's home. Other worthwhile visits is to Beale Street; here you find street performers, clubs and bars.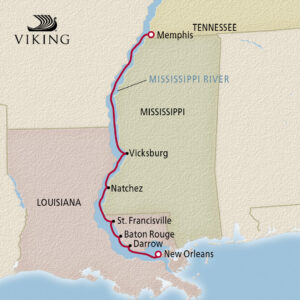 What does a cruise like this cost?
With a Viking's Heart of the Delta cruise there are  5 included Guided Tours. All your meals onboard the ship, as well as beer and wine at lunch and dinner is included.
For pricing purposes, I looked at the November 18 – November 25, 2023 sailing. This cruise sails from Memphis to New Orleans.
The smallest cabin on this Viking ship is actually a very decent size at 301 square feet. This cabin comes with a French Balcony.
A two night pre-package in Memphis is $899 per person; and I would recommend this if you have not been to Memphis before.
You can also add a two night package after the cruise in New Orleans for $899 per person.
Airfare from Tampa through Viking is $499, however, I am sure we can book you flights for less than that.
Optional Travel Protection is $619 per person. This will give you peace of mind if you need to cancel for a covered medical reason. The great part of this insurance is that you can 'cancel for any reason' and receive a future cruise credit with Viking. I do highly recommend purchasing this.
With the airfare, insurance, and cruise fare; a French Balcony would come to $5517 per person.
Keep in mind; availability and pricing is subject to change.
For more information on a Viking cruise; or other luxury vacation, please contact [email protected], or call (727)789-1771