Viking River Cruises Danube Waltz -Adventures and Immersive Cultural Experiences in Enchanting Destinations.
December 19, 2022
The biggest appeal of seeing Europe by river is that you get to absorb the history, culture and lifestyles of a region from a perspective that you miss if you're traveling by any other means. The views out your longships window is ever changing (except when the ship is docked or passing through a lock), and you don't want to miss any of the must-see stretches, passing through some of the most picturesque or interesting parts, and knowing where you can position yourself either out on the open-air Sun Deck, or from the privacy of your balcony, as to soak up the scenery on both river banks rather than just one. (History didn't unfold on only one side of the river, after all). So bring non-tie shoes you can race to the top deck in as soon as you spot a castle out your window.
Viking River Cruises showcases many of Europes Best older cities onboard their Danube Waltz Cruise Itinerary, utilizing their Fleet of Long-Ships sailing the Danube River for passengers to enjoy (8) Eight Day Itinerary, its revealing many incredible and breathtaking views from right from your Verandah Suite Balcony or up out on the Sun Deck, with spectacular scenery that awaits you around every corner. Each port offers its own unique local vibes and cultures, offering choices of exciting Shore Excursions or Attractions.

Must see Highlights
Two must see highlights that Viking River Cruise Danube River Waltz (See Pricing Below) Sailing the stretch of river through Austria's Wachau Valley of which is located between Melk and Dürnstein (27 kilometers with no bridges or locks) and the nighttime sail in Budapest past the Baroque Architecture, culture and history abound each of these cities like located in Austria is the Schönbühel Castle and The Melk Abbey an UNESCO World Cultural Heritage Site is Austria's Baroque Jewel on the Danube, with its splendid architecture since 1089, Benedictine Monks have continually been living and working here.
The entry into Passau, Germany, for instance, is a can't-miss scene—it's a charming town where three rivers converge, making for lively boat traffic—so you don't want to choose that moment to, say, be taking a shower. (A good time for a shower is when you're passing through a lock. The culturally immersive ports along the Danube, helps us to "fall in love" with special destinations like Vienna, Budapest, Linz, Krems, Bratislava, and Passau. Maybe you have always wanted to Learn how to Waltz? What better place than at Viennese Dance School. Art enthusiasts will certainly enjoy the riverside City of Linz, while exploring its Art Exhibit at The Lentos Kunstmuseum (Museum of Modern Art Linz) A major modern art collection.
Soaking it all in at a Budapest Thermal Bath or shopping at "The Market Hall" just few blocks walking distance from the port. The Art Nouveau at Gellért Spa, or one of the many other lavish facilities in this "City of Healing Waters.". The Medieval old town of Bratislava & upon its hilltop sits The Bratislava Castle with its many legends.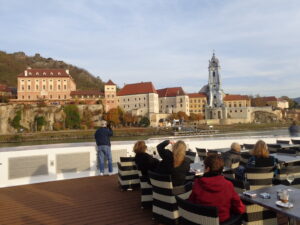 What can I expect to pay for a cruise like this?
Viking River Cruise Danube Waltz: (8) Eight Day Cruise Itinerary
Viking Ship Vilhjalm: 8 Days, 6 Tours, 4 Countries Departing from Budapest
June 14 – 21, 2023, Veranda Suite Cat (AA) $9,816.00 p/p dbl. occ.
Pricing Includes: Viking Cruise Fare based dbl occ., Port taxes and fees, Viking Air – Roundtrip Airfare in Premium Economy from Tampa, Florida, Roundtrip Transfers, Viking Travel Protection Plan (Insurance) with Covid Coverage. Prices are subject to change.
Explore More Before or After Your Cruise with Pre and Post Cruise Extensions:
Budapest begin at $499.00 p/p and Post-Cruise Extensions-Prague at $899.00 p/p.
Shh…These Rates for Verandah Suites, Lead-in cruise fares available but much smaller cabins.
Keep in mind; prices subject to change/accurate at time of print.
For more information, do not hesitate to reach out to Curlew Travel. (727)789-1771, or email [email protected]
Viking Danube Waltz