Viking's Rhine Getaway
Viking's Rhine Getaway is an 8 day Rhine cruise where you can either cruises from Amsterdam to Basel, or Basel to Amsterdam.
A Rhine cruise is the most popular river cruise to go on. Second is a Danube cruise.
On Viking you cruise on their world famous Longships with only 94 cabins. This is not an ocean cruise with 4000 passengers, huge buffets, big theatre style stage shows. Rather, these ships are about the luxury exprience; from fine dining to luxurious cabins. A cruise like this allows you to get off right in the heart of your destination. On this particular cruise you visit Amsterdam,  Kinderdijk, Cologne, Rudesheim, Koblenz, Speyer, Strasbourg, Breisach, and Basel.
I would recommend travel northbound from Basel to Amsterdam, rather than the vice versa. Why? This cruise goes down stream which allows for a little more time in the ports of call.
Also, if you have enough time; book the two night pre-package to Lucerne. This is the quintessential Swiss town between the Swiss Alps on a beautiful lake.
After the cruise you should book the two night post cruise extention. What use is it to arrive to Amsterdam just to get on a plane to return home.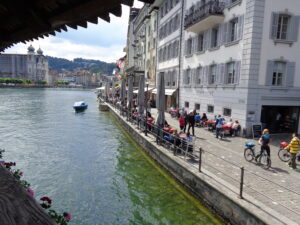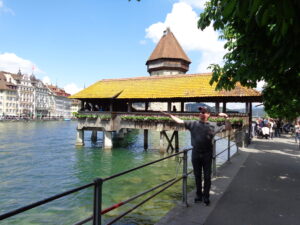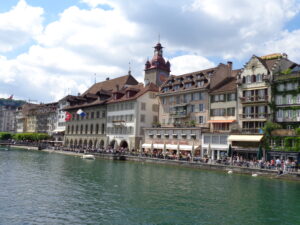 Example of what you can expect to pay for this Viking Rhine Getaway river cruise.
For pricing purposes I looked at May 20, 2023 from Basel to Amsterdam.
Why am I looking at this date? I like to travel to Europe when it is less crowded and the weather is still decent. May is prior to the busy summer season when everyone goes to Europe. The prices are also less than the following months.
At the present time Viking is offering free economy air. This is a limited time promotion. If this promotion was not available, the price from Tampa would be $999.00 per person for economy class. You can also upgrade to Premium economy, which will cost you a total of $999 per person. Another option is business class for $3499.
I also looked at the Verandah Category A cabin with a small balcony. This cabin is approximately 205 square feet and located on the highest passenger cabin deck. You can always look at a French balcony cabin, however, these cabins are only 135 square feet; which is very small.
Also added is the two night pre-hotel package in Lucerne. The wonderful thing about this package is that it includes transfers from the airport to Lucerne, a luxury hotel, a Lucerne walking tour, and transfers back to Basel (as long as you book your air through Viking) This package is an additional $799 per person. This is well worth the money.
After the cruise there is a two night Amsterdam hotel package which also includes the transfers, a walking tour, and a hotel. This is offered at $699 per person.
I always get the insurance. We can either look at insurance through Viking or on our own. On our own insurance may be less, however, you can only cancel for covered medical reasons. Viking insurance, in this case $619 per person, will allow you to cancel to covered reasons and receive your money back,  or for any reason, and receive future cruise vouchers. This is a huge comfort for me.
Total for this cruise.
The total for a Viking's Rhine Getaway, including flights, Verandah cabin Cat.A, transfers, and insurance, the total comes to $11 036 for two people.
This does not include the optional Lucerne, and Amsterdam. If we add that in, the total is $14 232.
For more information on this particular Viking cruise, click the link below.
Feel free to reach out to us here at Curlew Travel for any questions, and/or if you need more information. You can also email our Viking/river cruise specialist at [email protected]