Boutique Expedition cruises
The Hottest Cruise Game is Small Boutique Expedition Cruises.
All the boutique vessels, both Seabourn Venture, and Viking Osiris * Octanis are all ultra luxury boutique expedition vessels that offer a unique and luxurious cruising experience to all its passengers. The choice ultimately depends on your personal preferences and interests of which the Luxury Travel Specialists at Curlew Travel can plan and create an exceptional tailor-made journey for our clients, focusing on anticipating the client's expectations so that they are fully satisfied.
What is a Boutique Expedition Cruise?
A boutique expedition cruise is a type of expedition cruise that offers a more luxurious and personalized experience compared to a standard expedition cruise. These cruises are characterized by their small size and attention to detail, with a focus on providing high-end amenities and services to a limited number of passengers. In addition to the luxurious onboard experience, boutique expedition cruises often offer unique itineraries and exclusive activities, such as private shore excursions, customized wildlife viewing experiences, and other personalized adventures.
The focus is on providing a high level of service and creating a personalized experience for each passenger, with a high staff-to-guest ratio and a commitment to exceptional customer service. These Boutique expedition cruises can be a great option for travelers who want to experience the thrill of exploration and adventure in style and comfort. However, they tend to be more expensive than standard expedition cruises, due to the high level of service and amenities they offer.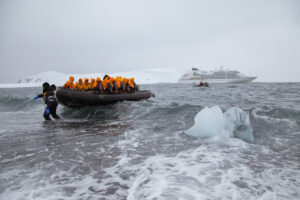 Seabourn Venture vs Viking's Osiris:
Why cruise on Seabourn Venture ?
A new ultra-luxury purpose-built expedition ship; Seabourn Venture, paying tribute to the remote destinations visited by the brand's highly successful expedition and Ventures by Seabourn excursions, and shows that of Seabourn new commitment to the Arctic and Antarctic region's. This ship features 132 spacious and elegantly appointed all ocean-front balcony suites. Each suite includes a Personal Suite Host and Suite Attendant, and comes with main shower and tub, and walk in closets.
Seabourn All-inclusive difference, includes complimentary premium spirits and fine wines available on board at all times. The range of dining options with world-class dining further enhanced through a culinary partnership with Chef Thomas Keller. Spa & Wellness by Dr. Andrew Weil, a Fitness Center, and a Pool. Here is where ultra luxury meets adventure, and designed to explore exotic destinations also offers its passengers a variety of expedition activities, such as Zodiac tours, Kayaking, and Snorkeling. Chart a new course
aboard Seabourn Expeditions, a world-class experience of comfort and luxury and take that journey to exotic locations brimming with natural wonder.
Why Cruise On Viking's Osiris?
A Luxury River Cruise Ship custom built for the Nile, this petite vessel features an Immersive Experience in Egypt. The ship accommodates 82 passengers in elegant Scandinavian style, with its historical photography and designer spaces that helps give it the feeling of a Boutique Hotel, especially its Two-Story Airy Atrium. Each spacious stateroom features full length windows, and adorned with luxurious accents. A variety of dining options, and a range of onboard activities, such as lectures and workshops on Egyptian history and culture. Viking Osiris also offers a range of shore excursions that explore the ancient wonders of Egypt.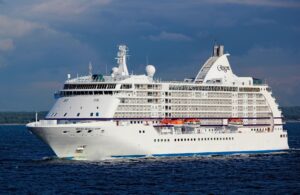 Here is an example of what you can expect to pay for such a cruise;
Seabourn Venture Antarctica Exploration 13-Day Voyage Jan 8 – 21, 2024. From Buenos Aires, Argentina to Ushuaia, Argentina: Panorama Veranda Suite (M) $32,805.00 p/p dbl. occ. Includes: Air – Roundtrip – Premium Economy Class from Tampa, Fl. Cruise Fare, Taxes, Fees & Port Expenses. Port taxes and fees, One shore excursion per port, Seabourn Guest Protection Program.
Viking Octantis, 13 Day Antarctic Explorer Voyage January 7 – 21, 2024 Buenos Aires, Argentina – Ushuaia, Argentina, Nordic Jr Suite Stateroom (NS) $23,542.00 p/p. dbl. occ., Includes: Viking Air – Roundtrip Premium Economy Class from Tampa, Fl, Ground transfers Included, Cruise Fare, Port taxes and fees, Meals, drinks, Wi-Fi and more, One shore excursion per port, Travel Protection Plan with Covid -19 Coverage.
Hottest Sailing !
Viking Osiris Pharaohs & Pyramids 12 Day Voyage Roundtrip sailing from Cairo, Egypt $14,496.00 p/p dbl. occ. August 28, 2024 – September 8, 2024 Veranda Stateroom (A)
Includes: Viking Air – Roundtrip Premium Economy Class from Tampa, Fl, Ground transfers Included, Cruise Fare, Port taxes and fees, Meals, drinks, Wi-Fi and more, One shore excursion per port, Travel Protection Plan with Covid -19 Coverage.
Optional Pre & post Packages in Jerusalem 4 nights $2,599 p/p dbl. occ.,
Jordan 4 – nights from $2,399.00 p/p dbl. occ.,
Keep in mind, prices subject to change, and terms and conditions apply.
For more information on these cruises or other cruises, please contact [email protected] or call (727)789-1771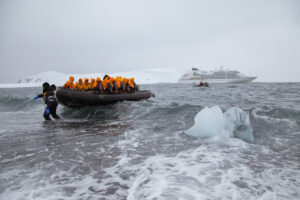 Here are some other cruises that may interest you;