VIKING'S AMERICA'S HEARTLAND CRUISE
This seven night cruise on the Mississippi river either starts in St. Paul and cruises south to St. Louis, and vice versa from St. Louis to St. Paul. The cruises are in August and September every year.
The Viking Mississippi ship was purpose built to cruise on the Mississippi and entered the Viking fleet as a brand new ship for 2022. This is one of the largest, if not the largest passenger ships on the Mississippi with 193 staterooms and 147 crew. Every cabin has a balcony and range in size from 268 square feet to the Explorer suite at 1024 square feet.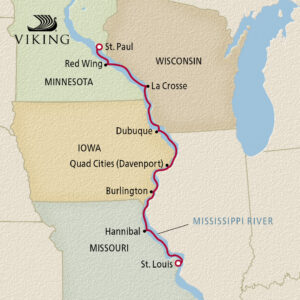 St. Louis is known as 'the gateway to the West'. This is due to this city being the the ideal spot for adventures, tradesmen, and explorer to meet and transact. St.Louis is near the confluence of the Mississippi and Missouri rivers. A must see is the world famous 'Gateway Arch'
Next stop on this cruise is Hannibal, Missouri. This is where Mark Twain' spent his childhood.
Burlington, Iowa is next where you can experience historic small-town America.
Quad Cities is America's Breadbasket. Right in the Heart of the Midwest and center of American agriculture. Make sure to visit the John Deere Pavilion.
Dubuque, Iowa is the next stop on tis cruise. Here you can discover the flavors of life next to the Mississippi during the great Steamboat era. On Galena's Main Street you will find more than 100 antique stores, restaurants and bars, housed in historic mid-1800s red brick and stone buildings.
Next stop is La Crosse, Wisconsin. This small city of approximately 52 000 residents has numerous sites on the National Register of Historic Places. Important statues line the shores of the Mississippi.
In Red Wing, Minnesota, you can visit the Red Wing Marine Museum, the American Ski Jumping Museum and Hall of Fame, or visit the famous Red Wing Store & Museum.
St. Paul, Minnesota is the last stop on this cruise. Explore her historic district with late 19th and early 20th century mansions.