Viking's Alaska and Inside passage cruise
Viking's Alaska and Inside passage cruise is ideal for any Luxury traveler.
Navigating Alaska & the Inside Passages in Luxury Sailing with Viking Ocean Cruises.
Catching a glimpse of a moose, a big brown bear and numerous a sea lions and otters sound intriguing? This is a normal day onboard the Viking Ocean Cruise Ship; Viking Orion. Abundant wildlife was wading along the over 500 miles of scenic coastlines that adorn the islands and Glacier-lined ports of Alaska's famed Inside Passage. Viking Ocean Cruises sails these waters in luxury and now boasts a fleet of new, all-veranda, state-of-the-art ocean ships. Each identical sister ship carries only 930 guests, and is engineered at a scale that allows direct access into most ports. Classified by Cruise Critic as "small ships," the fleet features understated elegance and modern Scandinavian design.
Enjoy every minute of your experience
Grabbing a beverage and enjoying the ships embarkations from ports, great viewing can be seen from Deck Seven (7), the Main Pool Lanai or Explorers' Lounge. My little secret is how to do doing both! Soaking it all in, the new sights, sounds and crisp sea air lingering through-out my suite thinking Wow, this is truly an amazing cruise line. As each day unfolded and the Chefs set their menus, for even more incredible food. Each day was more incredible than the next, but never feeling overcrowded which was incredible relaxing difference, as made my incredible journey which introduced myself to the Real Alaska.
When can I take this cruise?
Viking Ocean Cruises sailings from May – September, affords it passengers to be awed by the lush beauty of some of the Top Inside Passage destinations. Juneau, Ketchikan, Petersburg, Sitka, Skagway and Glacier Bay National Park & Preserve. Viking Ocean Cruises offers diverse culture and history, exquisite cuisine thousands of miles of breathtaking coastline, craggy glaciers, towering mountains, and wildlife in every direction. Sailing these scenic waterways along Alaska's Panhandle, miles of pristine wilderness of Fjord-like channels. Winding its way through vast maze of islands laden glistening glaciers and emerald-green forests where nature is at her most magnificent.

What you can expect to pay for such a cruise.
Alaska & the Inside Passage Viking Orion August 8 – 18, 2023 $9097.00 p/p
Penthouse Veranda Suite (PV2)
Departs from Vancouver, British Columbia – Seward, Alaska.
Includes Penthouse Verandah Suite Cabin, Port taxes and fees, Meals, drinks, Wi-Fi, and One shore excursion per port. Travel Protection (Insurance) included with COVID Coverage and Viking Air – Roundtrip from Tampa, Florida, in Economy. Premium Economy and First-Class Airfares upon request. Both Pre and Post Stays are highly recommended, so to enhance your travel experience.
Keep in mind, prices are subject to change/not guaranteed.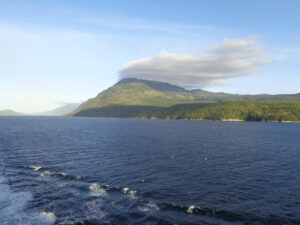 Here are some recommendations of what to include on your Alaska cruise;
While in Juneau, take an excursion to see the Mendenhall Glacier, and a whale watching cruise.
In Ketchikan, go on a flight over misty fjords and view this fast wilderness from the air.
In Sitka go salmon fishing on the Sitka sound, or explore on foot and see the discover the Russian legacy of this town.
Interested in more cruises like this one?
For more information, please do not hesitate to contact us at (727)789-1771, or email [email protected]